WOMEN IN ENERGY
GLOBAL STUDY 2.0
'Delivering Insights On How
To Retain Female Talent
In a Changing World'
'Women In Energy Global Study 2.0'
Delivering Insights On How To Retain Female Talent In a Changing World
NES Fircroft and Energy Jobline, supported by POWERful Women, are proud to present the second edition of the Women In Energy Global Study.
 The study is designed to highlight both the progress and challenges faced by women working in the energy sector in 2020. Produced from the results of an online survey of 3000 energy professionals, the study investigates key topics within the gender diversity movement. This year focusing particularly on Recruitment, Retention, and Mentoring.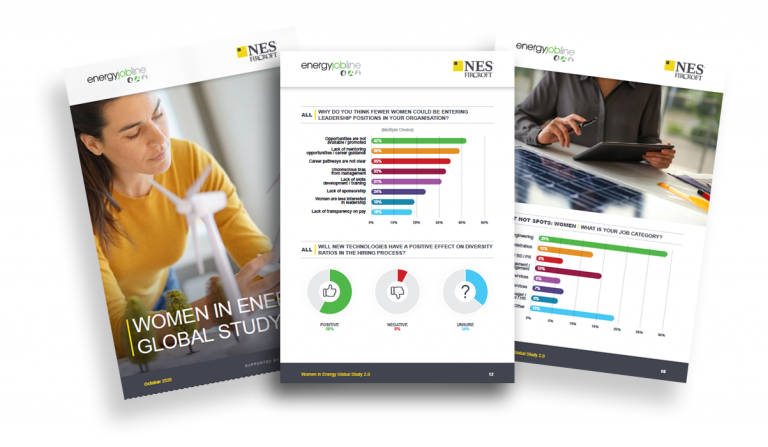 Future-proofing the industry for the 21st century (as the sector transforms into a decarbonised, digitalised industry), will require the very best talent to drive initiatives through. The findings presented in this report can advance the progress, and process, of 'effecting change' in energy staffing through improved diversity best practice.
The Women in Energy Global Study 2.0 was exclusively launched at the 'POWERful Women Annual Conference 2020'. Attendees at the conference, focused specifically on supporting CEOs and hiring leaders in developing a strong diversity strategy, will receive a copy of the report as well as context around each set of results.
"We are incredibly pleased to share the findings of this unique, industry-leading study with energy recruitment leaders in a bid to help shape their future diversity strategies. This piece of research is designed to help take the temperature of women working in the energy industry and deliver insight into what they feel they need to thrive in the sector."
"The Energy industry continues to adapt itself for the future and this second-year report highlights the progression from last year and guides energy recruitment leaders in how they can further attract and retain a diverse workforce, that is proven to create the best results. We are excited for energy recruitment leaders in using our industry-leading study to shape and develop their diversity strategies, creating a better balance throughout their organisation and the industry."
"POWERful Women seeks to advance the professional growth and leadership development of women in the UK's energy sector and the Women in Energy Global Report gives us a greater insight into the challenges both women working in energy and the energy companies themselves face globally, regarding gender diversity. We are delighted to be a part of the work that's been done to bring the key issues to the fore. POWERful Women facilitates change by providing practical support to companies, career support to women and by creating awareness and this report is a very helpful for our aims and objectives."